Page 2 of 2 •

1, 2
Fallon arched but one brow at the intrigue of Draven's statement while he gave the two vehicles parked outside the Cathedral a very steady, analyzing once-over.  Both were high-end cars, obviously, but aside from that, Fallon didn't know anything about cars, really.  Their color, exact shape, length, height and width were carefully taken note of in the few seconds he had before Draven pulled to a stop and parked in front of the large Cathedral doors.  These were details of import to Fallon, as you never know when it will be prudent to identify the vehicle of a Vitae.  But as for the two of them, they were no where to be seen, and at a guess, likely within the towering and ancient looking building already.

"Erh, the two of who, exactly?  I met quite a few Vampires in the past 2 days, but none of them were an elder.  I only know this because of the pressures.  I only met one Vampire who's aura pressure was greater than my own, and it was only barely.  His name was Sebastian, and said he was Dimensia."  The words just kind of kept coming after his question.  Must have been that blood, because he felt awful peppy all of a sudden.

He had just mentioned the Vampire's name when he pulled the door handle and pushed it open, then stepped out into the lovely cool air of the night.  He took in a deep breath through his nose, and savored in the scent of the nearby cemetery, the smell of death long-passed-by that had grown to a place very near his heart in the past 400 years, as it has almost always accompanied safety of the caliber that one could actually relax within.  He loved that smell.

"Nice guy, he was.  Quite friendly, but not imposing." He absent-mindedly added while he drew in another deep breath of what he affectionately would call the 'air of death.'

_________________
Colour claim: #00CCFF
Administrator





38

---

Joined

: 2016-05-04

Character Sheet
Other Characters:


As if my day wasn't shit enough. She thought to herself before killing the Wraith's engine and stepping out of it. She ran the fingertips of her left hand above her brow slightly as if she were attempting to ward off a headache.

"Lavra the Vitae for the Acontinum and Markus the Vitae of the Mortuus are both arrogant, cocky and know-it-alls. Beyond that, Markus does not respect my authority. Call him old fashioned, but he does not like taking orders from a woman it seems. He is not powerful enough to obtain the throne of Sanguine and he resents it. Lavra means well, but he sometimes does not know when to keep his mouth shut."

She turned to Fallon for a moment, a devilish glint in her otherwise inhuman eyes. It made her seem more Demonic than Vampiric in a way.

"The mood I am in tonight, it would be wise if they both remained seen and not heard, but I am very doubtful it will go as I hope it will. Markus was especially resentful when I married Dasani five centuries ago."

The Montriarch paused for a moment as she ascended the wide marble steps leading to the large, double doors with their red hued stained glass. She approached them, reaching out with her hand against the palm plate beside the door. It scanned her prints with a bright red light. A mechanical, feminine voice floated out.

Welcome, Lady Draven. Please have Master Fallon enter his data.

She removed her hand, gesturing towards the palm plate. "Customary for all Vitae's." She said simply by way of explaination, though she was quite sure he already knew that.
_________________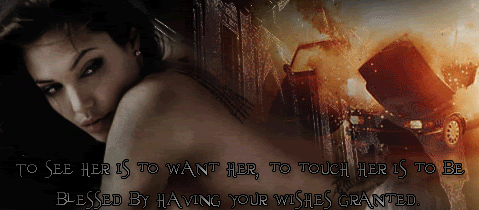 Site Owner





387

---

Joined

: 2007-01-03

Character Sheet
Other Characters:


Fallon shook his head with a smile at the talking door, a thing that he had gotten used to already, but still amused him.  A door.  That talks.  To you specifically.  The smile evolved into a wide grin as he reached out at the pad.

"So, I just....put me hand here?"

He said as he slapped his palm lightly on top of the reader.  An outline of a hand appeared on it, and Fallon spread his fingers to match the spacing, and the scan began.  His mind swam with other matters, and he found himself looking around the room impatiently while the door did it's thing.  After several seconds, he felt a sharp pinch on the heel of his hand, and as such his hand shot back from it fingers writhing as he pulled the palm up to his face to see a small puncture that was rapidly closing.

"A bit of warning might've done."He chuckled out, the smile already resurfacing from the slightly confused look he wore.

_________________
Colour claim: #00CCFF
Administrator





38

---

Joined

: 2016-05-04

Character Sheet
Other Characters:


"Hmm, perhaps, but then where would the fun be in that. I have to keep you on your toes somehow, Fallon." Came the Montriarch's amused reply. With the new data in the system, the Faboan Vitae would now have access to everything the other Elders did. Something that Markus would not be pleased with. She could already feel the tension in the air and it was nearly palpable. Deliberately, she entered the Cathedral first. As if on que, the Mortuus stood waiting in the atrium. He was, as always, immaculately dressed in an expensive black suit custom tailored to his leanm wiry frame. Dark hair was slicked back away from his angular face. There was an expression of interest on his face, but it soon faded when Fallon stepped in behind her. Disdain became evident in his expression as he looked over the younger Vampire from head to toe.

"Tell me this is not the so called Faboan?"

Draven scoffed faintly. "Much to your disgust, but my extreme delight, it is. Fallon Haestus, this is Markus Dupri, Vitae for the Mortuus." She gestured almost half-heartedly, moving slightly out of the way and take a step to her left.

"I did not realize Sanguine was now accepting his kind."

Red flashed in the Montriarch's eyes, signaling the flair in her anger. "And what do you mean by that, Markus?"

"Inexperienced. Naieve. Trouble. He will serve no good to us here. I warned you of this before with Dasani."

Without warning, her power lashed out. She called to the blood that flowed in Markus' veins. Her blood that had made him what he now was. He was ripped up off of the floor a good ten feet above its polished surface. His back was bowed with the pain of it.

"I gave you life, Markus. I can take it away just as easily. I have tolerated your insults and your back handed comments for centuries. Tonight is not a night I will put up with it. Not any longer. I am Montriarch, not you. You are not fit nor strong enough to rule Sanguine. Until the day that you are, my word is Law."

Just as quickly as he had been lifted, he was dropped, landing in a coughing heap upon the floor. With a gracefuly gesture of her hand, she addressed the Vampire behind her.

"Come, Fallon. I have a gift for you." She said casually, making her way towards the large round table that sat in the very center of the Cathedral. Around the table were numerable high-backed chairs made from well cared for, polished black stained wood. Each chair held the symbol of their respective Bloodline. To the right of Draven's was a chair that had been covered with black cloth. This had been where Dasani had sat during the gatherings, her right hand as Head of Security. A position in which they desperately needed and with the Faboan's background, who would better suit it? As she passed by the chair, she reached up and pulled the cloth down. Beneath it was a new chair designed similiarly to the others. Only this one held the symbol Fallon had hand picked for his Bloodline. Since Dasani's departure from Sanguine, the chair had remained covered. The new one had come in last night and she had it finally replaced.

"I had it handcrafted in Ireland. It came in last night and I had Samuel have the movers place it here. Consider this your welcome gift. The right hand is reserved for the Head of Security, a position in which I feel you would suit very well."
_________________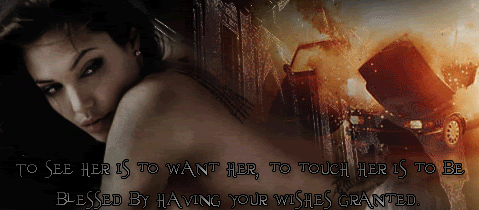 Site Owner





387

---

Joined

: 2007-01-03

Character Sheet
Other Characters:


"If you want, I can add Marcus to my list. It'll look better with two Vitaes on it, instead of just one," came Vangelos voice, from right behind Fallon. The Vampire himself stepped out of the shadows, taking care to tread on Markus' custom-fit suit jacket, and moved around to his own chair.

"Nice chair," he remarked, casting the remark to Fallon, as he allowed himself to sink into his seat. Once there, he fished a book from an inner fold of his long coat and flipped it open. At a glance, the text appeared to be hand-written, the pages were yellowed, and the spine of the book worn, from what appeared to be frequent use of the book.

"Of course, Draven's is the nicest," he concluded, letting his purple-hued eyes rise from the book to his Sire, and then to her newest acquisition. "Although it doesn't swivel. Which, honestly, I think all the Council chairs should do."
_________________
"I must not fear.
Fear is the mind-killer.
Fear is the little-death that brings total obliteration.
I will face my fear.
I will permit it to pass over me and through me.
And when it has gone past I will turn the inner eye to see its path.
Where the fear has gone there will be nothing. Only I will remain."
Vitae





30

---

Joined

: 2013-07-26



Page 2 of 2 •

1, 2

Similar topics
---
Permissions in this forum:
You
cannot
reply to topics in this forum